Horse, Summer 2020 ©Molly Roberts
 This year stands as a year like no other in recent memory. As a society we faced a deadly virus, unknown and untreatable. As individuals we faced the multiple crises of lockdown, illness, loss of family, loss of income and loss of normalcy.

Family, 2020 ©Molly Roberts
As we hunkered down, either in our pandemic circle of family, with our pets, or for many alone, we reached within and without to find the resilience and strength needed to continue our lives in a world where everything has changed.

George Floyd, 2020 ©Molly Roberts
We've been inspired by local and national heroes, we've witnessed and participated in a reckoning for racial justice, we've dealt with a dysfunctional government, we ridden the waves of openings, closing and reopenings. We've dealt with loneliness and dislocation. We've helped others, and we've accepted assistance.

Family Meeting, 2020 Molly Roberts
We look ahead to an unknowable future. As artists and photographers we have channeled that energy into images and ideas. We have documented our lives, we have connected more deeply to the people and places closer to us. We have found comfort in the natural world, in our neighbors and even in the faces of strangers who are navigating the same unknowable future. This exhibit will collect the many beautiful and painful moments that bear witness to our collective experience. Your images should also be accompanied by a short written piece, either describing or illuminating your experience. – Molly Roberts
BIO: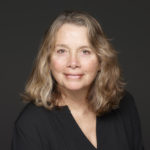 Molly Roberts is a visual editor, independent curator and photographer. Her career has focused on telling visual stories in conjunction with wonderful photographers, videographers, writers and designers, primarily in the magazine print world; Washington Post Magazine, USA Weekend, Smithsonian and National Geographic Magazine. She is the Creative Director of HumanEyes USA which is a non-profit organization created to bring American issues into sharper focus through photography, video and art. Roberts recently completed an academic fellowship at the School of Visual Communication at Ohio University.
TIMELINE:
August 16th: Call for Entries opens
DEADLINE EXTENDED: September 20th!
ALSO: You may now enter for inclusion in the online gallery only if chosen – not on the walls of the physical gallery. No printing, no packing, no shipping, no worrying about a return. Just Please note that in the email you attach your images to. Thank you.
September 25th: Notifications to photographers
October 25th: Framed work due at gallery
November 1 – December 31: Exhibition hangs at South x Southeast Gallery, Molena, Georgia
November 7th, 5p-8p: Opening Reception on the lawn behind SxSE Gallery. 10 guests at a time will be allowed in the gallery. Masks and social distancing will be utilized at all times.
FEES AND PAYMENT:
4 images: $40
Additional images: $10/each (no maximum)
Click here for additional images
HOW TO ENTER:
Once you've completed the payment portion:
Please send your images attached as one file to nancy@sxsemagazine.com
Please put Love and Loss and Resilience in the subject line of the email
Please file name each image as such: your last name your first name title of image
Please include a short essay or story about the image, why you took it, what it means to you, why you want others to see this
QUESTIONS: please email nancy@sxsemagazine.com
PLEASE NOTE: Molly will be instructing a workshop the same weekend at SxSEGallery on The Self-Portrait. To find more information and register please go here. 
Stay safe, be well. xx